Home
>
Clamcleat®
>
Cleats for ropes to 5/16"
---

Print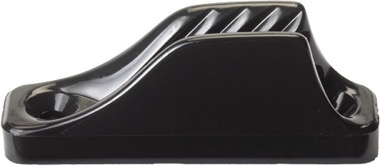 CLAMCLEAT® MIDI
Injection Molded Nylon
Bulk
Display
Clamcleat® No.
A
B
C
Rope Size
Finish
Fastener
Weight
Std. Pack
Add to List
002090
002090-1
CL209
2-7/8"
2-1/8"
3/4"
5/32"-5/16"
Black
#10 FH
.04
10 ea
008030
008030-1
Tapered Pad
.02
10 ea
With the CL209 the rope drops down into the teeth to give a quick and positive lock that is easy to release. The cleat is manufactured from UV resistant plastic, making it cost effective and ideal for holding rope in an outdoor environment. Its simple design has lead to it being fitted on dinghies, kayaks to hold anchors and gym equipment. Also available in Aluminum - CL254.