Home
>
Clamcleat®
>
Cleats for ropes to 5/32"
---

Print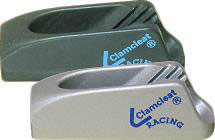 CLAMCLEAT® RACING MICROS
Aluminum
Bulk
Display
Clamcleat® #
A
B
C
Rope Size
Finish
Fastener
Weight
Std. Pack
Add to List
002680
002680-1
CL268
1-3/4"
15/16"
1/2"
3/64"-5/32"
Silver
#4 FH
.02
10 ea
002685
002685-1
CL268AN
1-3/4"
15/16"
1/2"
3/64"-5/32"
Anodized
#4 FH
.02
10 ea
008230
008230-1
Tapered Pad
.01
10 ea
Small, neat and lightweight. Advanced tooth technology to hold all types of small rope. Applications include Canoes (seat & rudder lines); Dinghy control lines; Kite Surfing (5th line adjustment). Manufactured from aluminum for a light weight and durable performance the CL268 is available in two finishes: 1. CL268 has a silver stove enamel finish for a cost effective, high quality coating. 2. CL268AN has a hard anodized finish to give a hard wearing surface. A nylon versions is also available - CL263, as well as a variation with becket CL270 A larger versions is also available - CL211 Mk2.