Home
>
Clamcleat®
>
Cleats for ropes to 5/32"
---

Print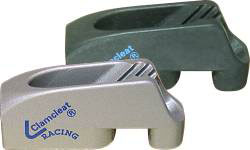 CLAMCLEAT® RACING MICROS WITH BECKET
Aluminum
Bulk
Display
Clamcleat® #
A
B
C
Rope Size
Finish
Fastener
Weight
Std. Pack
Add to List
002700
002700-1
CL270
1-3/4"
15/16"
1/2"
3/64"-5/32"
Silver
#4 FH
.01
10 ea
002705
002705-1
CL270AN
1-3/4"
15/16"
1/2"
3/64"-5/32"
Anodized
#4 FH
.01
10 ea
008230
008230-1
Tapered Pad
.01
10 ea
The becket holds the end of the rope under the cleat. No need for an extra fixing. Small, neat and lightweight. Advanced tooth technology to hold all types of small rope. Manufactured from aluminum for a light weight and durable performance the CL270 is available in two finishes: 1. CL270 has a silver stove enamel finish for a cost effective, high quality coating. 2. CL270AN has a hard anodized finish to give a hard wearing surface.